The new year is finally here, but looking back, the whole of 2020 has been a challenging time for businesses all over the world. In the United States, the story has been no different.
Between working to prevent the spread of the COVID-19 pandemic, maintaining the economic security of the public and private business sectors, and navigating a contentious presidential election during these turbulent months, the U.S. Federal Government has experienced a hectic year to say the least.
The State of Federal Spending and Small Businesses Today
The federal government recently broke spending records like never before by allocating $6.5 trillion of their budget toward goods and services throughout the 2020 fiscal year according to the U.S. Treasury Department.
That tops 2019's previous record-breaking spending by an incredible $2 trillion margin.
At the same time, many small businesses are just now beginning to take hold of their path to economic recovery after being stalled by statewide lockdowns and other costly unexpected hurdles. These widespread business efforts are ones that SBA financial assistance programs have been instrumental in, and ones that a long developing bipartisan small business stimulus package aims to encourage further.
Considering this all together, it's fair to say that the nation's commercial landscape has been shaken enough for many to call it into question.
For those interested in registered work with the U.S. government especially—where federal contracting, awarded grants, and other certification benefits play a critical role in the continued success of countless day-to-day businesses—many have been left wondering:
Thankfully, the answers to those questions are quite promising.
Greater Earnings are coming to the Federal Marketplace
In terms of annual government spending and the rewarding contracts available on the federal marketplace these coming years, things are looking spectacularly bright.
For some numbers: In the U.S. government allocated $478.04 billion from the trillions of dollars in their annual budget toward federal contracting with locally registered businesses. In that number rose to $513.94 billion, and by 2020 spending reached $611.07 billion despite the concurrent effects of the global pandemic and electoral unrest.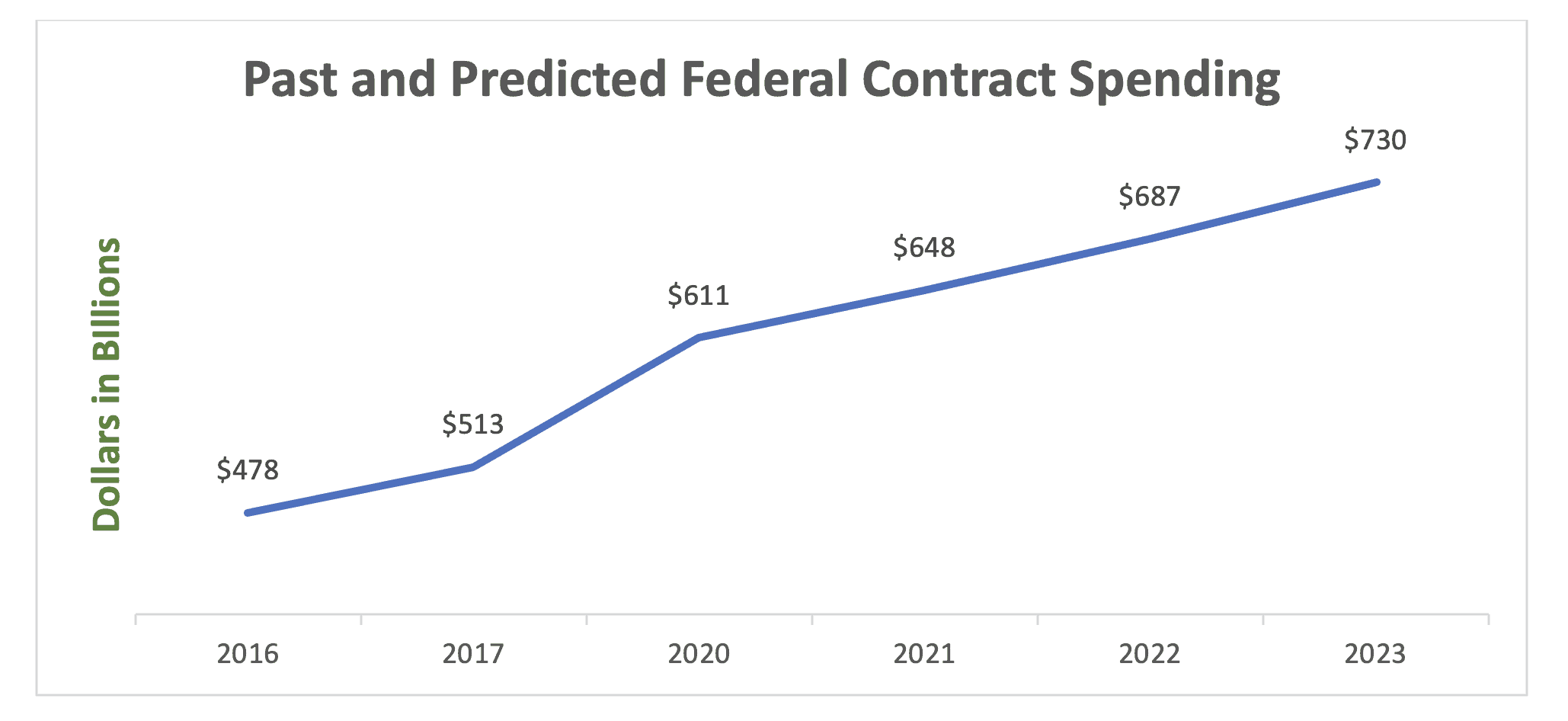 If you do the math between all that time, you end up with a roughly 6.1% increase in federal spending for contract work year-over-year, and there are no signs of that growth slowing down. Follow this trend into the near future and there is liable to be more than $648 billion of such federal spending in 2021, over $687 billion earned by businesses performing contract work in 2022, more than $730 billion in 2023, and the trend continues upward from.
Keep in mind: All calculations in this article do not account for any of the exclusive contracting opportunities that are available to the federally registered businesses from the private sector, or the additional supportive funds which the government annually provides through federal grants.
All meaning, despite the incredible amount of contract spending shown here, these numbers still actually underrepresent the full value that businesses can gain through a federal registration.
Bigger Bonuses for Smaller Businesses
These exponentially expanding opportunities surrounding federally purchased goods and services are excellent news for the profit potential of any organization that registers with the U.S. System for Awards Management (SAM).
Although at the end of the day, it is truly small businesses that have the most to gain from this profitable curve. That's because…
Billions of Extra Earnings are Available for Small Businesses
Thanks to Small Business Administration (SBA) regulations that are designed to help burgeoning organizations access their fair share of work opportunities and remain competitively viable, 23% of the federal government's yearly contract spending is reserved exclusively for small businesses.
Or in other words, any organization that meets SBA' size qualifications to be recognized as "small" has a substantial amount of work to claim from a wide range of uniquely available set-aside and sole-source contracts.
For even more numbers: This means that in 2020 alone, $140.55 billion of the $611.07 billion spent on contracted goods and services could only be accessed by small businesses. If the federal marketplace's growth rate continues as expected, then there is going to be at least $149 billion of contract work set aside for small businesses this 2021, no less than $158 billion in 2022, and over $168 billion in 2023.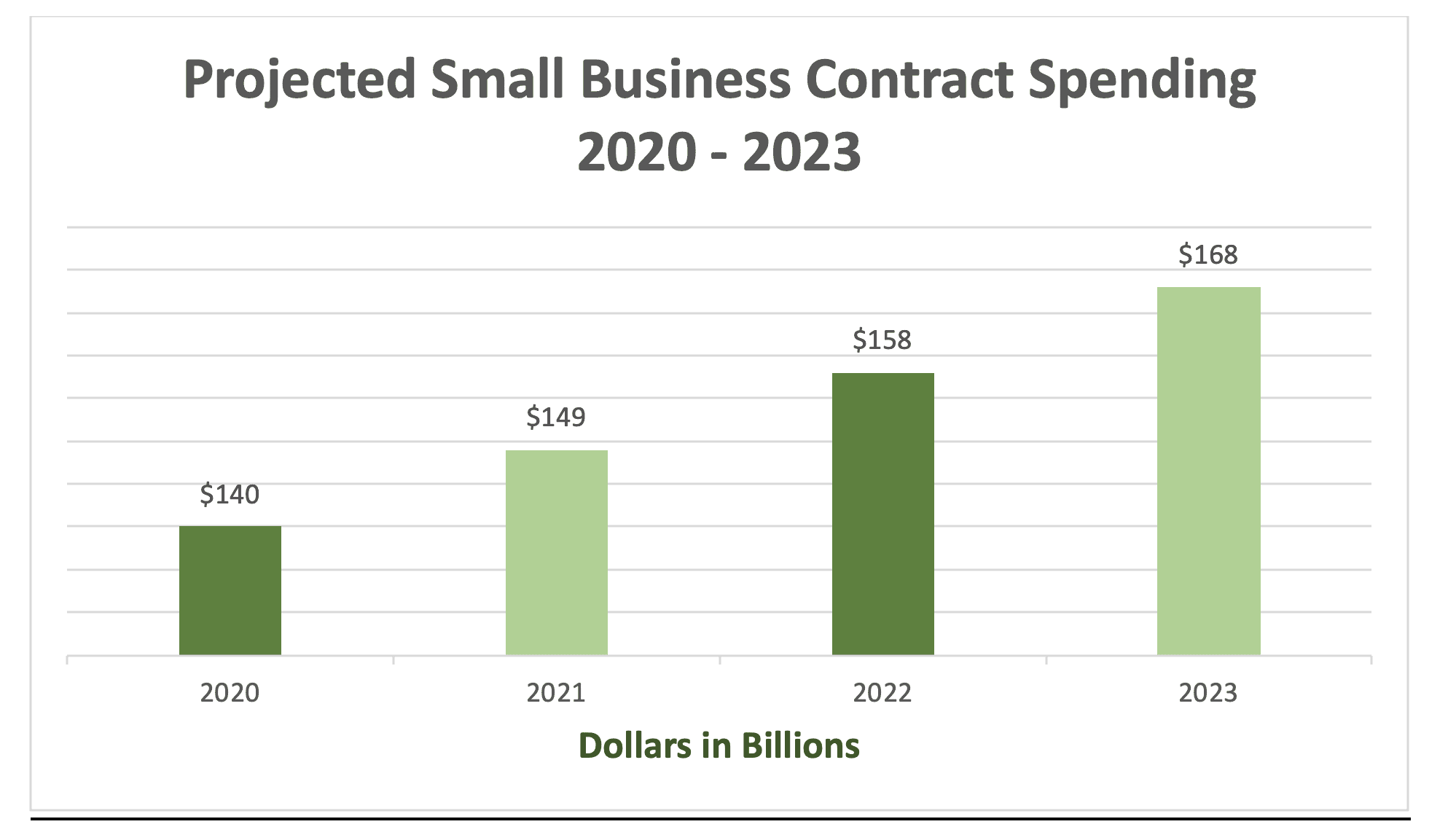 That is an incredible amount of earnings for SAM registered small businesses to claim. Furthermore, these calculations made here assume that the rate of federal spending will continue to annually increase at a fixed rate of just 6.1%—but in reality—that percentage growth is trending upward as well.
Only time will tell how much the federal government is truly going to spend these incoming years, but even when lowballing the projections are highly encouraging.
Even More Billions are Reserved for Specially Certified Organizations
The exclusive bonuses that come with a "small business" classification stretch even further for any entities that also qualify for special certifications.
These certifications cover:
Additional portions of contracting opportunities are reserved for these kinds of businesses alone, adding onto the already significant 23% of exclusive work options they can already access as SBA registered small businesses.
For instance, both WOSBs and 8(a) certified organizations are eligible to access their own separate 5% reserves of federal contracts, meaning a cumulative 28% of all government purchased work opportunities are held for them every fiscal year. Meanwhile, VOSBs and HUBZone certified organizations may access individually extended 3% reserves of contract opportunities, allowing both kinds of businesses to freely navigate a 26% pool of annual government contracts that are set aside for organizations just like them.
These benefits have the potential to stack up as far as a business' eligibility goes as well. If an organization is both a women-owned small business and located within a HUBZone, for example, then the 23% of contracts saved for small businesses, the 5% of contracts reserved for WOSBs, and the 3% of contracts exclusive to HUBZone organizations combine for a whopping 31% span of exclusive federal contract opportunities.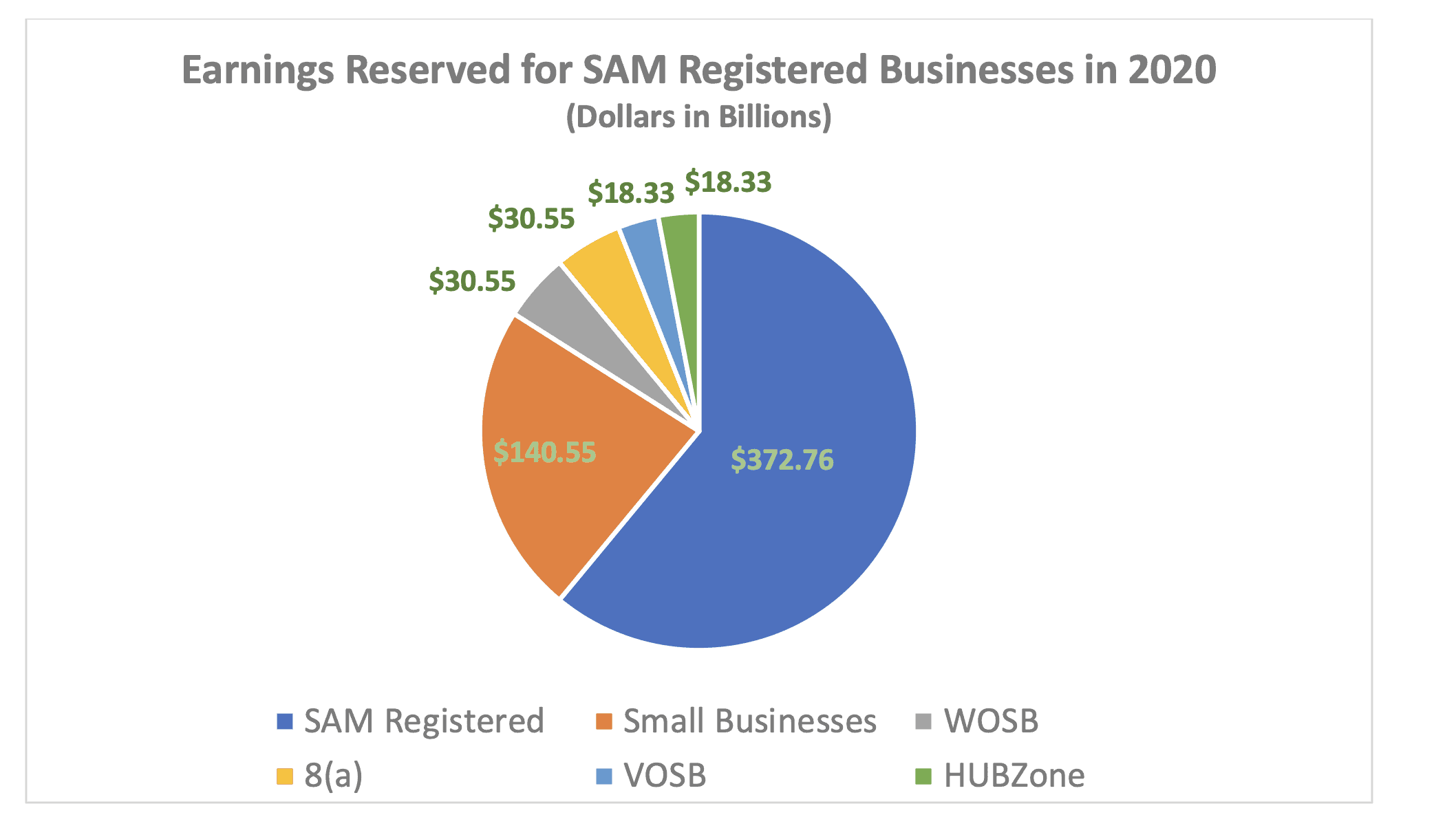 As you can see here, there's a lot of overlap potential when it comes to the range of available small business certifications. Considering the ever-growing billions upon billions of dollars that are spent by the U.S. government every year, even the slightest percentage increase in contracting opportunities means a substantially larger amount of lucrative federal work for eligible organizations to take advantage of.
Easily Entering the Federal Marketplace without Delay
The rapid growth of federal marketplace spending (and earnings) over the previous years paint a clear picture; that the future of contract work with the government is a very bright prospect, particularly for small business owners and specially certified organizations.
Every day there are more contracts and awards to be found on the SAM.gov website, meaning eligible organizations that have yet to register with the federal government are missing out on the benefits they deserve.
In fact, for multiple years now, HUBZone and 8(a) organizations have been offered more exclusive work opportunities than there are registered businesses to claim them. That means there are valuable contract opportunities with guaranteed availability for eligible business owners which are simply going to waste. With the state of the world economy as it is right now, more than ever these are opportunities that businesses can't afford to ignore.
To effortlessly enter the federal marketplace yourself and make the most of the profitable advantages awaiting you, look over the speedy federal registration services we offer here.